Last Gig In the Paleos Tuesday 22nd September 2020 😥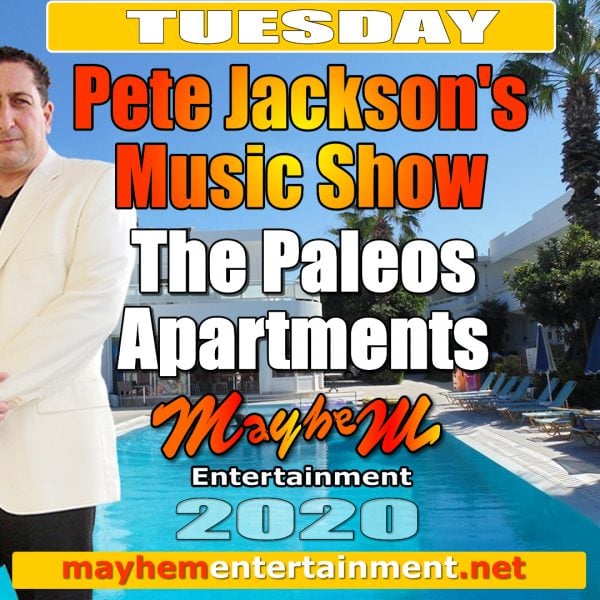 Semtembered Off.
That's it, tired now. This has been a crock of shite of a season for everyone here in the tourist industry. (some deserve it). The good people of Rhodes have pulled together to help make people's lives just a little bit better. This year I had the privilege of working in the Paleos Apartments Iaylyssos (Trianda). This is one of the friendliest and best-run accommodations in the north of the island.
Book your holiday here direct with them or ask their advice about booking via a tour company Click Here for their website and ask for Giannis (Yanis)

As for me, this is my last year in the entertainment industry and Pete Jackson's Music Show has come to its inevitable end. I just want everyone to know that out of all the venues I have ever played, the Paleos Apartments had a swinging great night with some wonderful people on every single occasion I was fortunate enough to be there. It is a venue I will miss the most. But all good things must come to an end. The end will be Tuesday 22nd September 2020. 
They also say it's not over until the fat lady sings. Well, I have put on a few Kilo's but I still look shite in a dress (nobody's perfect). Thanks to everyone I met & sung with or for. Thanks for watching, thanks for listening, hope you have some memories. I am getting too old & my health issues are not helping. Let the record show, I took the blows & did it my way.
Pete Jackson's Music & karaoke Shows Rhodes Greece. At a quality venue near you. All summer 2022. Also, we hire and rent disco equipment. Speakers, mixers, amps, DJ decks, controllers, disco lights, and smoke machines. For weddings and villa parties
For those of you coming to Rhodes this summer. Have a great vacation. Come and see one of my shows
#mayhementertainment #petejackson #rhodesgreece #vacation #music #karakoke #entertainer #singers #discohire #soundandlight #petejacksonsmusicshow #karaokeshow #weddingdj #weddingdisco #soundandlightingrental #rhodesweddingdj #rwdj