You Bring Your Music 
This is perfect for Weddings. Save a fortune and play your own music by plugging into one of our sound & lighting systems. Use your own music via a laptop or any audio device such as your Smartphone or Mp3 player.
One System For All Venues
2X 12″ Mid Tops 
1X 15″/ 18″ Subwoofer
1 Dynacord L1800FD
DSP AMP
10/12  Chanel Mixer
3 Radio Microphones 
Spotlighting/
DMX Controller 
Cables/ Stands 
Delivered/ Collected
€350.00 + VAT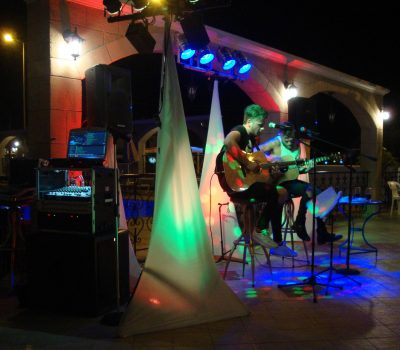 The system here, used by
Ben Pool Guy Smeets
Great for a small band, musician, or DJ, 50-150 people, suitable for outdoor use.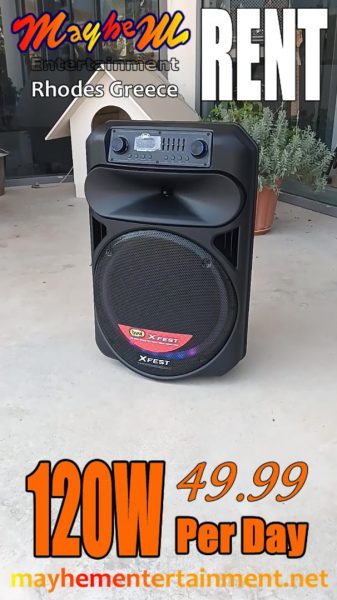 120 Watts of power
Battery Operated.
(with mains electric charger)
Connect:
Via Bluetooth
3.5mm Jack (Laptop/Tablet/Phone)
6,3mm Jack (Guitar)
SD Card (with Mp3s etc)
USB Flash Drive (with MP3s etc)
€49.99 is based on 3 days hire = €149.97
€79.99 per single day
price includes delivery & collection
€300 deposit, refundable
on return of the unit. As delivered. 
We Supply Sound & Lighting Hire
We supply you with a basic system, all dressed up with lights. Maybe you have a musician or DJ that wishes to bring his guitar or music controller & just needs the sound system or even the instrument, microphone, etc. We can supply everything you need.
Wedding Discos
Mayhem Entertainment Wedding discos. We supply full disco setups. Lighting & high-quality audio systems. You can have almost anything you like, depending on your budget. We supply lighting equipment, including various effects such as lasers, strobe lights & moving heads with smoke effects. You can have almost anything you desire for your party. A simple set of spotlights & some color-changing mood lights. Or a massive stage lighting rig for a large venue.
Sound & Lighting Equipment Hire

Small – Medium – Large Parties & Events



We will deliver, set up and collect (included in the price) a small P.A system with some lights for your holiday villa party or event. From a simple amplifier and speakers with a set of spotlights to anything you need. You may require something a little more high-end, like a set of DJ turntables or some specialist lighting and effects.
Large Stage Rigs Sound & Lighting For Concerts
Considering having your conference or seminar here on Rhodes? We supply medium to large events, sound, and lighting systems. We supply outdoor stages and lighting gantries for large concerts. Complete with fully trained on-site audio & lighting engineers.
This type of equipment is for serious professional use and should only be used considered by serious event organizers with a basic understanding of audio, lighting, and stage management. We would expect most event planners to have booked a minimum of 6 months in advance of the event. Full payment is expected 8 weeks prior to the event & a 50% non-refundable booking fee will be required.
Unfortunately, we get a lot of dreamers & time wasters for this kind of equipment. If you wish to meet one of our representatives.
A fee of €150.00 is payable before meeting at the venue. (refundable from your rental)

Since 2007. Mayhem Entertainment has served the audio and light needs of a wide spectrum of clients. Including hotels, nightclubs, bars, conference rooms, theatres, and other businesses and local authorities. We only use the highest standard riggers and engineers. The best quality equipment. We can advise you about your requirements with our collective superior knowledge. Of this island & its venues. 
There are many laws and rules that have to be adhered to. We can assist in making your project the best and safest for you and your patrons. It is important when Sound & Lighting For Large Events. Planning & working with venue owners is one of the skills that are so important. We have many friends here on the island. Hoteliers, bar owners. As well as managers and staff. 


For more information please send me a detailed list of your requirements. Including the venue, dates, style, and type of event. We source and supply almost anything you need with our experienced team.