Karaoke Shows
Performing Karaoke music shows from 2007. Available in quality bars & hotel venues on the island.  Technology & popularity has allowed for many changes. 
Karaoke music shows
This show is based on a karaoke concept with a slight twist. The show has the concept of entertaining the non-singers and people who don't usually like Karaoke. Cleverly presented with the highest-quality sound and lighting. This show is not just for people who want to sing. Pete has special guests, tribute singers, and professional vocalists to entertain you.
Pete Jackson Shows
If you enjoy quality sound. Professional entertainers. Musicians and singers. Please come along to one of the shows. I have had tribute singers. Rod Stewart, Michael Buble, The Blues Brothers. I have worked with the legendary Ben Poole, Guy Smeets, Saxa Dan, Simon Warner, and Stevie (Twister) Stoker. 
Mayhem Entertainment Shows & Locations
Sunday
Hotel Ziakis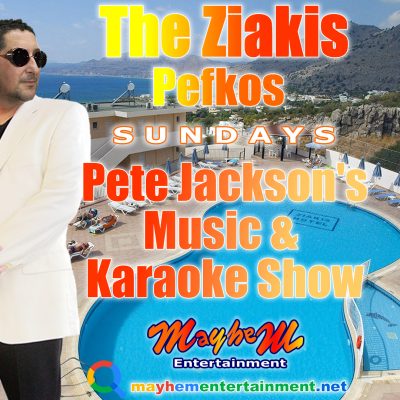 Monday
Finas Hotel Pefkos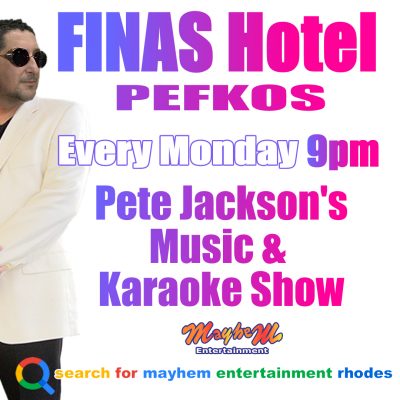 Tuesday
Cocktails & Dreams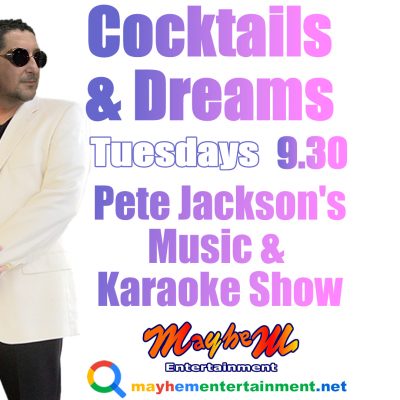 Wednesday
Astronaut Training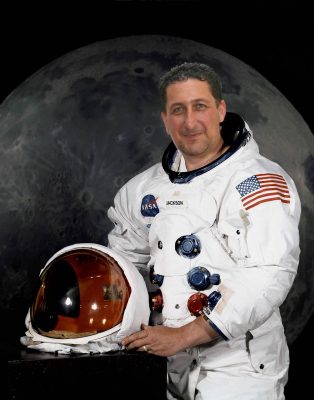 Elon Musk Has chosen me to represent planet Earth on the first mission to Mars in 2027
Thursday
Cocktails & Dreams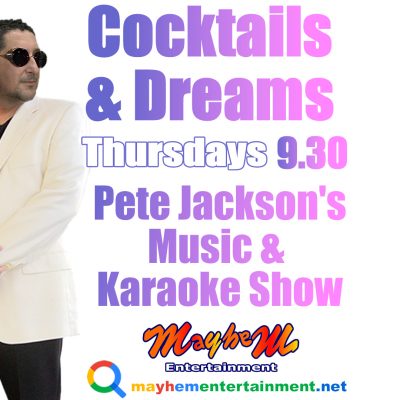 Friday
Paleos Appartments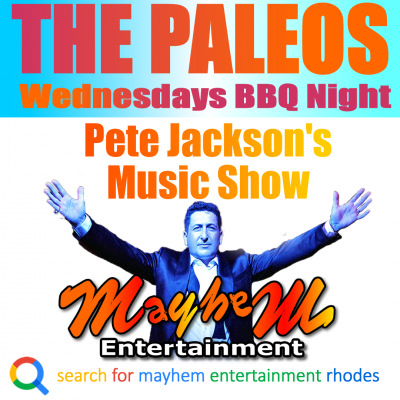 Saturday
Lindos Gardens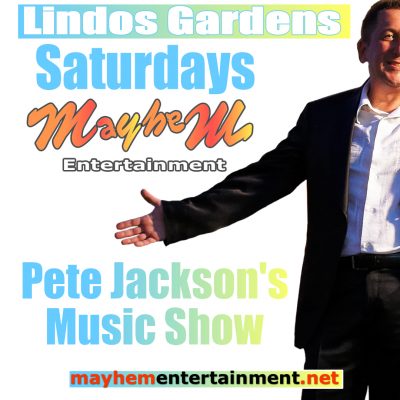 Mayhem Entertainment Shows
This is not your average karaoke show. After many years in the business. Surprised by the levels of entertainment. The ability to sing or play. This is not some excuse for a drunk person to get up and sing. I realize that most of the people in the room are not there to sing. My entire show is aimed at you. Try it. If you don't like what I do you can always tell me. 
Family-based music and karaoke show. More entertaining. Makes the evening flow.  Involves everyone. Without pleading for singers. Focussed on the non-singers. Entertaining the audience with music and professional singers.
Providing comedy and showmanship, introducing singers.
To Read My Karaoke Etiquette Guide.
(Just for Laughs)
We use Karaoke Tracks From:
YouTube
(when desperate)