Weddings DJ Disco Rentals. Rhodes offers a lot of choices. If you have a playlist of songs and a Smartphone. Please see my "Rental Page" for more details on the menu above or Click Here Mayhem Entertainment can supply all the equipment you need. Plugin your iPlayer or Smartphone & stream your favorite tunes via YouTube, Spotify, or whatever your favorite music medium is. We have new wireless systems and lighting. Wedding disco equipment from €350 per night. This could save you a small fortune. We deliver, set up, and check everything. Have a great time and then when you have finished we collect it all. Included in the price.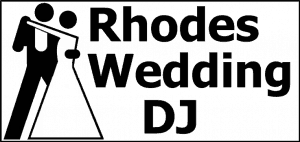 If you want a proper, more experienced UK wedding DJ, there is only one on this island. Get Mini from Rhodes Wedding Dj (if you can usually she is booked at least 1 year in advance) Please bear in mind that there are only 2 UK entertainment companies with less than 4 legal professionals on this island and we are 2 of them. Thank you, Brexit.
My Experience – Pete Jackson
As a wedding arranger & entertainer for 30yrs + Living on Rhodes since 2005
Setting up a sound and lighting system at 30-40 degrees is tough work. It usually involves carrying a large amount of professional; equipment into an inaccessible place. For instance, Lindos, and Rhodes Town, to mention a few. Also, we have a terrible electric supply here on the island that plays absolute havoc with just about everything that produces, sound, light & vision. Also, humidity plays a part in causing just a few problems. (all part of the challenge). 
Playlists
One of the other things that have changed over the past decade or so is the use of media download sites like YouTube & Spotify etc. I have had people sending me lists of songs (a playlist) 30-40-50 tracks, that have been compiled by the committee. Let me explain why this is the worst idea in the history of wedding discos. If you have a playlist of 30 songs that will last 3 hours. You don't need a DJ, just hire the equipment, the plugin your mp3 device. ( we deliver it, set it up, test it, then collect it when you have finished). From 350 euros plus tax. The second reason is that a DJ will look at the audience, assess what is happening and then play the right music for everyone. You will probably have everyone from kids to Grandparents. Let the DJ do his or her job. 
Wedding disco & DJ Rhodes
Please be aware that this is Greece, temperatures are usually around the mid to late 30s up until midnight. Think about your evening attire. Swimming is banned at 7 pm in all swimming pools. For your safety as well as the  DJ and staff. Electricity and water do not mix well. Also, Chlorine was added for the following day. So when the staff or DJ says "Do not jump in the pool" Don't. It may be the end of your evening's entertainment.
Get Married Here In Rhodes Because It's Amazing
It's an amazing island to get married. With fantastic locations. There are lots of people here to give you all the advice you will ever need They all speak English so don't be afraid to make that call. There are loads of wonderful places to have your reception. However a word of warning I would stay well away from all-inclusive hotels and packages. They will take a deposit from you, and promise you the earth. Then you will not get to anything that is not on their supplier list, which you will have to do a few days before your wedding conveniently while you are here in the resort. Or to put it a better way… your choices will be limited & more expensive.
If you are getting married or just thinking about it, good luck with your planning. Wishing you all the happiness in the future.
Diaries are filling up fast. Make sure you get your bookings in now 2024 is almost fully booked, as is 2025.
When a wedding professional here in Rhodes says they are taking bookings on a daily basis, This is not some sales pitch to get you to sign up. It's true.
Pete Jackson