No Virus Here Ok. Stop stockpiling your bog rolls, hand cleaner & Jaffa Cakes. My show will be commencing around May 2020 on the beautiful sun-kissed island of Rhodes. If you have not been to Rhodes before please book yourself a ticket and get into the Greek relaxation lifestyle. Guaranteed zero-stress environment (apart from the airport). 
The only problem is. If we let people onto the island and they do not follow the regulations. Then we will end up with a problem. So while you are here. wash your hands before every activity. Wear your mask when you are asked. Use the hand sanitisers provided. Karaoke is tricky because of the use of microphones. We can wipe them with alcohol and sanitiser etc.  I am sure we will end up with the same problem. The safest way would be to lock down the whole planet for 12 Months. But that won't happen. So come and enjoy.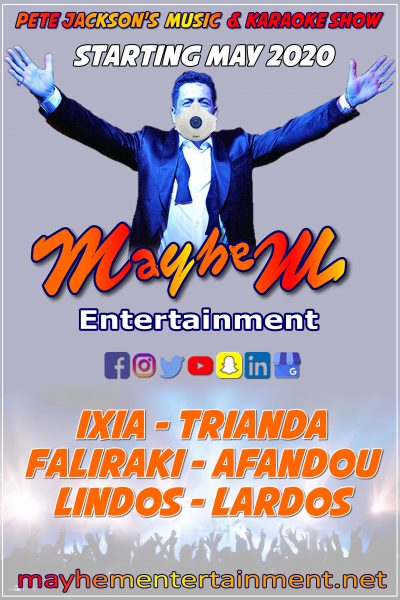 No Virus Here
Get rid of your filthy stinking Corona Virus now before it eats your computer!
Nice Relaxing Video with shameless advertising.
Come to Rhodes Its Great
Pete Jackson's Music & karaoke Shows Rhodes Greece. At a quality venue near you. All summer 2022. Also, we hire and rent disco equipment. Speakers, mixers, amps, DJ decks, controllers, disco lights, and smoke machines. For weddings and villa parties
For those of you coming to Rhodes this summer. Have a great vacation. Come and see one of my shows 😀https://mayhementertainment.net 😎
#mayhementertainment #petejackson #rhodesgreece #vacation #music #karakoke #entertainer #singers #discohire #soundandlight #petejacksonsmusicshow #karaokeshow #weddingdj #weddingdisco #soundandlightingrental #rhodesweddingdj #rwdj